It's not only a matter of how good your speech is but how much you love what you're doing. One big factor in marketing is knowing what to say and the secret to knowing what to say is knowing what you exactly do.
"What do you do?" seems like an easy trivial question but you may sometimes find yourself taking time and repeating the question to yourself before actually answering. The first time you hear this may give you a hard time determining what to say. 
It is important to define your product or service and process and start from there. Testing and experimenting is a part of the action steps as a start to clearly define to others what you do. Eventually, when you have established a process you will be able to naturally define your business.
Go easy on yourself and play with words and phrases that are compelling yet something that you're comfortable using. The more compelling your words are to you, the more inspiring they will be to your potential customers.  Work with a mentor, a coach, or a friend to help you construct statements that feel right to you.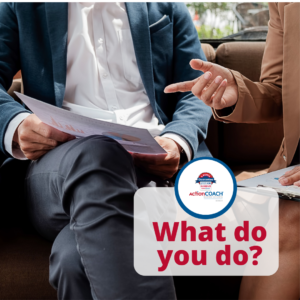 Salient points worth pondering:
When prospects inquire about you and your business, what they really mean is

"how can you help me with my problem/pain point?"

  Think more deeply and read between the lines. 

Put yourself in their shoes before answering them.  Think about how your products or services could help. Know what you

do

, but answer what solution they need.

Be exact.  Being specific sounds easy but in reality, it's much more complex.  Focus on the main thought of what you're doing and excluding everything that has no bearing.
You want to be specific to be able to engage in meaningful conversations. The exactness will result in your prospects commenting and inquiring about what you're selling instead of just glazing over and walking away. This is the conversation that will build your relationship with the prospect, and thus, make the sale.
When creating your statement, look out for the "light bulb" moment. Say your speech out loud to pull you out of your thinking mode.  This allows you to hear yourself more clearly and listen to how you sound.   Once you find yourself having goosebumps, smiling, or nodding "yes" while talking,  you can say you're already getting it.
Here are some additional questions to help you:
What do your customers feel before walking through your door?
What are 3 emotions they will likely feel within 90 days of

working with you

?
What are the usual

challenges

your ideal customer is

facing

?
What solution can you offer to address the

challenges your customers are dealing with

?
Of all the things you

could

possibly do with a client, what are the things you

most

enjoy doing?
What causes

stress

to your ideal customer?
Who are your ideal customers?
Who is the

easiest

customer to deal with?
What is the reason that you

want

to work with this type of client?  
Who do you work with best?
What do you consider easy to do?
What do you think would be of primary value to your clients?
What do you think draws your clients to you?
What makes your customers choose you over your competitors?
What benefits will your customers get from what you offer?
If you want to deliver your piece effortlessly and with confidence, working with a mentor, a coach, or a consultant could be of great help.  Leave a comment below for more tips on how to market your business without necessarily selling.